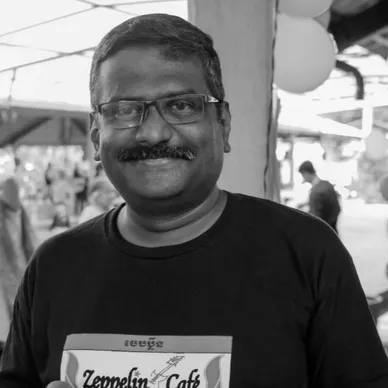 Cofounder & Head – Operations
Cofounder & Head - Operations
Achyutha brings over twenty five years of experience in the information technology industry, having been involved in software testing and customer support to marketing projects and products. He is an entrepreneur, the founder and Principal Consultant for Change Management, Knowledge Management, Business Process Re-engineering and Benchmarking projects undertaken by Chirantan Consultants. He adds value to the evaluation stage in the recruitment of people for various fields of activities from infotech to mechanical and electronic industries. He currently co-owns an exclusive children's book store. Achyutha was also the Associate Editor of "CHANGE" a magazine totally dedicated to Change Management, BPR, TQM and ISO9000. He was a founder and Senior Consultant for "Symphony", an organization dedicated to team building and stress management using adventure sports. Achyutha is involved with some research projects on the Third Sector / NGO movement and his paper abstract was selected for the 6th International Society for Third Sector Research (ISTR) Conference held in Toronto between 11th and 14th July 2004. Achyutha is an IRCA certified Lead Auditor for ISO 27001. He is trained on COBIT/Val IT, Risk Management and is an expert on IT Governance and Corporate Governance principles A voracious reader, he trips on music, movies, theatre and traveling.
Request a quote for work
Feel free to contact us through Twitter or Facebook if you prefer!