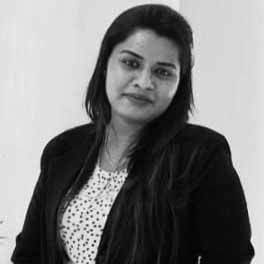 Hello, I am  Nandhini  Rajendiran
Nandhini Rajendiran is a MBA with Bsc-Biotechnology with experience in Government of Karnataka Startup, Department of Information Technology and Biotechnology "Single window Clearance committee".
She has Executed Government Events like Invest Karnataka, ITBiz, and Bangalore India Bio, Bangalore Nano, Brand Bangalore and so on. Registered Tech based startups under KSUC Policy.
She has run several start-up programs and award winning Hackathons, workshops at Incubators for startups under GoK Initiative, Organizing regular mentoring sessions for startups. on boarding the startups to acceleration program,  analyze and resolve the program risks.
She has also, worked on Policy and Advocacy for Government and Private, She has conducted various events on B2B, workshops and certified Training programs internationally, a top performer, a keen communicator with problem solving skills.
knowledgeable & experienced, best performer- IT, BT, ESDM & StartUp Karnataka, working with IAS & KAS officers.
Request a quote for work
Feel free to contact us through Twitter or Facebook if you prefer!